First Choice Equipment Sales and Service Rents Hard to Find Equipment!
Please call (719) 240-4930 or (719) 249-4929 to check availability.
5700© ALL-DAY BATTERY
RIDE-ON FLOOR SCRAPER
Remove linoleum, ceramic tile, carpet, and more!
Sale Price: $39,000
Delivery not included
Call (719) 240-4930 or (719) 240-4929 for details about delivery and pick-up times.
Transport the equipment on a custom trailer -- call for pricing.
Dimensions: 24.5" x 54" x 50.5"
Weight: 2,244 lb (185 lb removable weight)
Power Frequency: 120V / 60 Hz
Maximum Speed: 120 ft/min
Seat Switch: Ensures the machine will not function without someone in the operator's seat.
18" Wheels: Designed to work on all types of applications, including debris build-up and slippery/slimy residue (e.g. double stick).
Onboard Battery Charger: Recharges onboard battery pack.
Adjustable Slide Plate: Affords maximum versatility in blade settings.
Forklift Cups: Makes it easier to load and unload on job sites.
Control Levers: Move forward or in reverse, turn, and brake with easy-to-move levers.
DC Motor Pump Compartment: Provides easy access to the motor for maintenance purposes.
Adjustable Foot Rests: Adjusts to operator's level of comfort.
Cutting Head Cylinder Lift: Changes the angle of the cutting head via the control handle next to the operator seat.
Debris Deflector: Redirects debris away from the operator.
Swivel Cutting Head: Ensures continuous blade contact with the floor.
Headlight: Illuminates work zone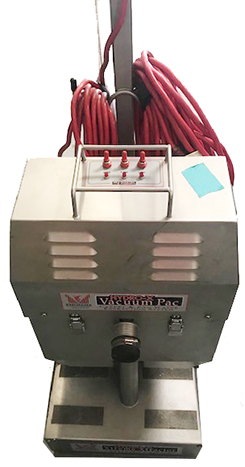 Phoenix Xtreme Xtractor with Vac Pack
Call for details about rental costs and availability.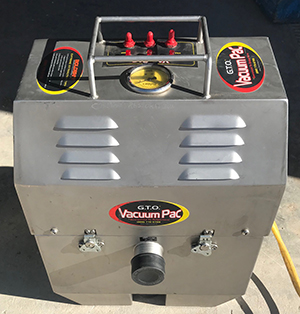 Phoenix VacPac
Call for details about rental costs and availability.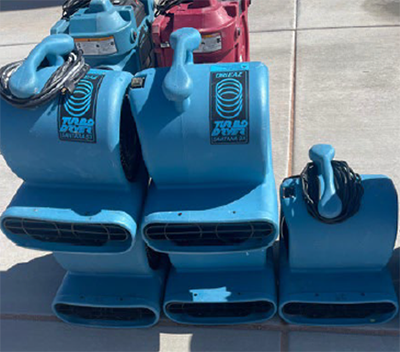 Drieaz Centrifugal Air Machines
Units have been cleaned and serviced.
Stackable.
Nice condition.
Unit rents for $50 per day + delivery.
Call for details about availability and pick-up and delivery costs.