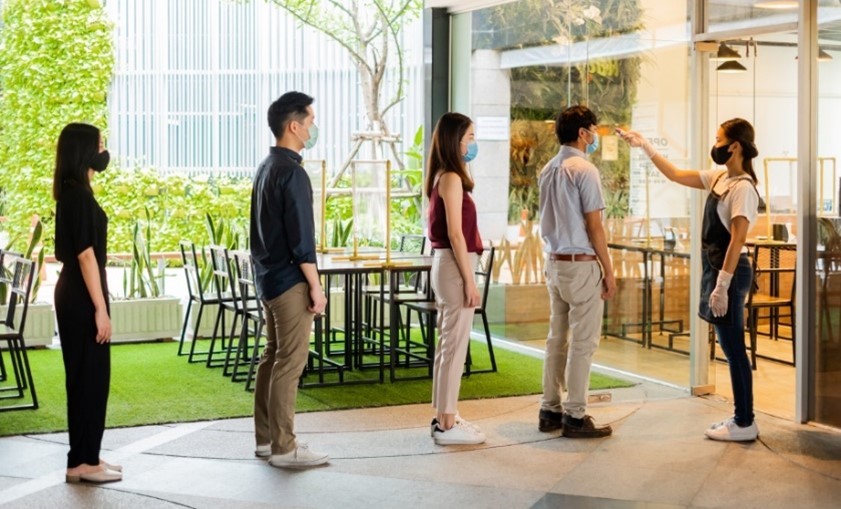 By Beth Hinton
In case you didn't realize it, doing restoration work today is uniquely different than it was before the Covid-19 scare.
Our world has changed significantly since 2019 and we need to recognize that it's no longer business as usual – like it was prior to the pandemic! Interacting with the public demands a different way of working and interacting. We may not like the changes, but if we are going to succeed in business, we will need to adopt many changes to accommodate the public.  
What's Different:
A large portion of the general public has chosen to embrace the regulation, restrictions, and requirements.  As business owners, we can't stick our heads in the sand and simply ignore this new attitude and the public preferences.
Many clients, customers, our employees, and the public at large are fearful of the virus, and many are so fearful they don't want to work in the office anymore with co-workers. We see every day that homeowners demand a new level of expectation from their vendors.  It really not "business as usual today!"
What they want:
Customers, clients, prospects, and the general public will want you to respect their home and their business very differently than you have in the past. Many of us already use booties, mats or runners, and other simple customer care products to help the customer feel better about you being in their home.   
Now, you can also expect your customers to:
Drastically limit access to their home or business
Use internet technology for monitoring
Wearing PPE, gloves, goggles, masks, etc.
Clean and disinfect all surfaces that you touch in their home
Use tablets and phones for signatures
Use email or text rather than traditional paper documents
Have touchless payments and online appointments
Texting appointment info when technicians are on the way
QR codes for access to websites, review sites, menus
Zoom or video calls to view damage or conditions
Zoom & videos call for marketing and client interaction
Re-engaging the telephone to connect with clients
Even embrace local small businesses more than the national chains
 Often, the "big" multi-location vendors don't or can't provide that same level of personal care and safety that's so important to people today.
We all know by now that "what the customer wants – the customer gets."  This is obviously extended to every aspect of the public. Because of that, these new attitudes, combined with what people are demanding openly from all kinds of businesses, have moved our world into a new business environment. Regardless of our personal opinions, the fact remains that business radically changed in 2020 and moving into 2022 and beyond. Consumers do expect a totally different and new interaction and engagement.
Both governmental and private sector companies will have to conduct business in a new and careful way, showing the world that they are serious about public safety and health, simply to reassure customers they will be safe working for you or hiring you, or buying your products.
First Choice Equipment Sales takes great effort to ensure that the products and services we provide are as safe as they can be to protect your business and customers.
Beth from First Choice Drying Equipment is ready to take your call in person! You can schedule a call by filling out the form on the contact page, or you can call us anytime at the number listed below.
Follow First Choice Drying Equipment on LinkedIn to learn more
about the equipment repairs and equipment we offer.
Email Beth at beth.firstchoice@gmail.com or call her at (719) 240-4930.