AIR MOVERS, DRYERS, AXIAL & VENTILATOR FANS
Drying equipment is an important part of every restoration business. There are a few different types of air movers, air dryers, and fan equipment to choose from. It can be hard to know which one is right for the job. At First Choice, you can find the most common types of drying equipment – new or

used

that's best for your water removal project.
Air movers, air dryers, axial and ventilator fans are used for different reasons and have different capacities. Click on any of the products here to find out more about specifications. Call us at (719) 240-4930 and we'll help you order the right type of equipment that's best for your project.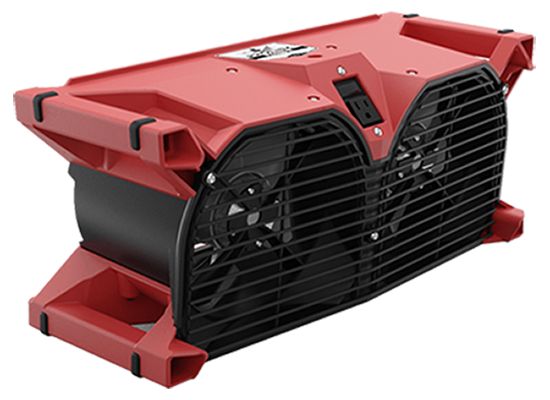 NEW!

Phoenix Focus II Air Mover
The Phoenix Focus II is a compact and powerful dual axial air mover designed not only to move air but can be easily transported from location to location.
SHOW MORE
With twice the fans to move air, how you move all that air is up to you. Air can flow vertically or horizontally – or mount the Focus II on sticks and you can aim the airflow up, down, or even angle it. All this performance while only using 1.1 amps means the Focus II has set the standard for CFM per amp.
Its ultra-compact (21″ x 8 1/4″ x 9 3/8′) size makes the Phoenix Focus II the most compact and portable fan in its class. The rugged molded-in handles give you the solid control required when packing and unpacking air movers. Its easy-winding cord wrap and multiple securement options make it a snap to prep for transport. Because of its deeply molded interlocking features, the Phoenix Focus II is rock solid when stacked for transport.
CALL FOR PRICING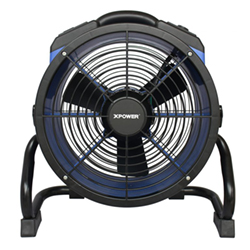 XPower X-34R Axial Air Mover
The smallest low-profile air mover on the market has a nested design feature that provides best-in-class and superior stacking for storage or transport.
SHOW MORE
Convenient GFCI protects the unit and everything plugged into it
Patented motor support x-bracket
Daisy chains up to 6 fans on a single
15 Amp circuit
Stability in all 4 drying positions provides flexibility and safety
Optimized outlet shape delivers high-velocity air
Bi-directional cord wrap with snap-lock plug and integrated  handle for maximum portability
CALL FOR PRICING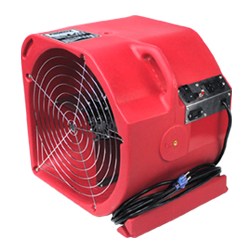 Phoenix BLE Airmax Axial Air Mover 
This air mover has more focus than competitive products with greater air velocities from zero to over 23.5 feet.
SHOW MORE
Directs airflow towards problematic corners
Capable of reducing secondary damage claims
3000 cfm
Long-life 2-speed motor
Low noise, quiet operation
Lightweight and compact linear low density
polyethylene
Colored Restoration Red for high visibility
Ergonomic handle
CALL FOR PRICING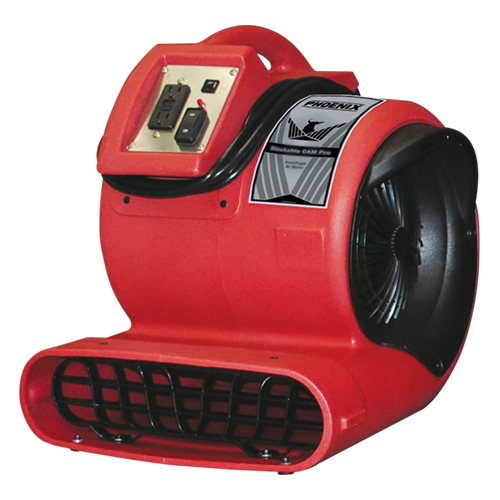 Phoenix 50HZ CAM Pro Stackable Air Mover
A low amp draw, balanced airflow, and maximum velocity of 2700 FPM with a rugged and durable body design that stands up to the rigors of the restoration industry.
SHOW MORE
2-Speed, 1/3 Horsepower Motor with automatic reset thermal protection.
2.8 Amps on High Speed; 2.4 Amps on Low Speed
Maximum Velocity – 2700 fpm
Balanced Exhaust Airflow
Directional Airflow
Horizontal, 45° Angle, 90° Angle
Durable, rugged, chemical resistant housing, fan wheel, and control design.
Operator interfaces conveniently located for easy access, featuring: power indicator lamp and a large three-position switch.
Phoenix exclusive Pilot Light and Sealed Switch are recessed to prevent damage.
Ergonomic carry handle and power cord storage.
Non-marking, anti-skid, rubber feet.
CALL FOR PRICING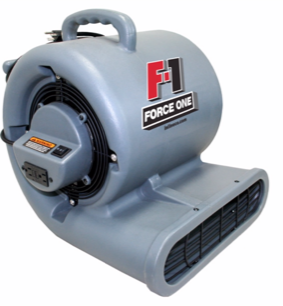 Force One Centrifugal Air Mover
Constructed with rugged rotomolded housing. The great choice for restoration professionals looking for a low noise air mover.
SHOW MORE
Stackable daisy chain

Direction Airflow – Horizontal, 45º or Vertical.

FOB Colorado

$228 Each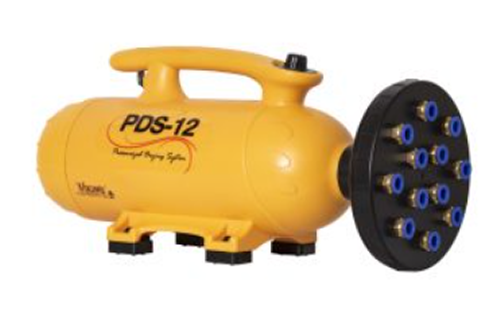 Xpower/Viking PDS-12 Air Dyer
The PDS-12 is a lightweight wall cavity dryer that quietly delivers heated air for drying under sinks, behind cabinets, and permanent furniture fixtures.
SHOW MORE
Equipped with a variable speed switch, Professional Restorers now have complete control of the airflow for any drying application.
115V / 60 Hz
4 HP
Variable Speed
12.0 Amps
Weight: 3.2 lbs.
CALL FOR PRICING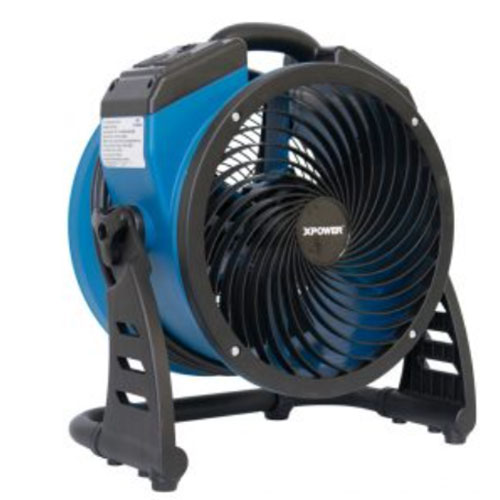 XPower ¼ HP Axial Fan
This unit can move air at up to 1100 CFM and uses an energy-efficient 0.6 amps of power. It's ideal for areas with water damage, janitorial cleaning jobs, or ventilation.
SHOW MORE
69 Watt
Available in 1-speed, 3-speed or 5-speed
Low Profile Fan
1100 CFM, 0.6 Amp
4 Speed Axial Fan w/ Built-In Power Outlets for Daisy Chain (PP)
Dimensions: 15.4" × 14.6" × 9.25"
Weight: 12 lbs
CALL FOR PRICING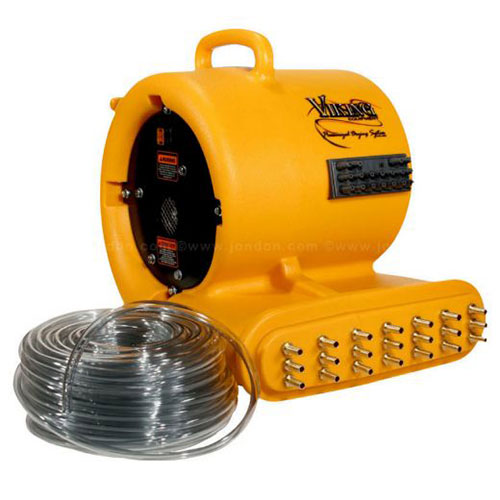 XPower/Viking PDS 21 Pressurized Drying System
The PDS-21 is an all-in-one containment which makes this revolutionary product easy to use for big and small jobs alike.
SHOW MORE
Heats up to 205º
There is no air mover motor, no squirrel cage, no attachments
Lightweight & Stackable
On Board "Plug off System"
Fast Setup
21 Outlets for more Drying Capacity
Warm Air for better Drying
Compact Design
2-Stage Tangential By-Pass
Double Ball Bearings Construction
CALL FOR PRICING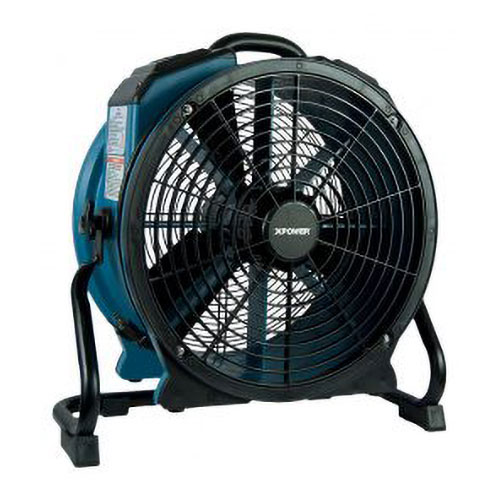 Xpower ¼ HP X-47ATR Axial Fan
Sealed motor Axial Fan with built-in power outlets for daisy chain connection and 3- hour timer (ABS)
SHOW MORE
Hi-Temp, heat resistant
3600 CFM
8 Amps, 18″ Variable Speed
Dimensions: 22.6" × 23.2" × 11.4"
Weight: 28.7 lbs
CALL FOR PRICING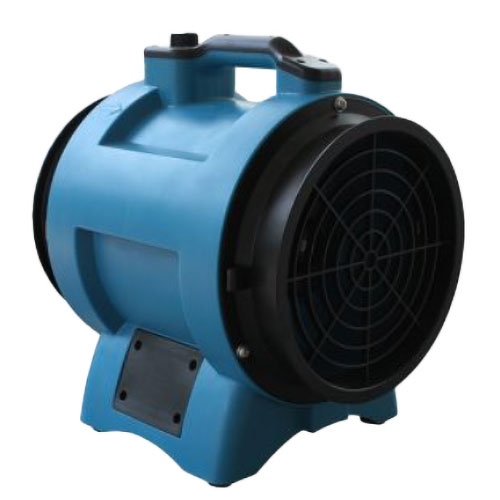 XPower Industrial Ventilator Fan
Weighing less than 25 lbs., create negative air pressure and circulation in gyms, hallways, and other large areas. Ventilate any narrow space including subterranean manholes and sewers up to 125 ft. 
SHOW MORE
Powerful and energy-efficient 1/2 HP induction motor
Low 6 Amp draw with 2600 CFM maximum airflow capacity
Variable speed control switch
20 ft. power cord
2-in-1 function: high velocity blower & powerful exhaust fan
Lightweight, compact and durable ABS plastic housing design
Dual thermal protection
CALL FOR PRICING